Saint Paul Rhinoplasty Doctors and Reviews
Average cost in US: $6,825
Average cost in Saint Paul: $6,000

67% of Saint Paul reviewers said Rhinoplasty was worth it
Featured Doctors

RealSelf Sponsors must meet eligibility requirements to qualify as a featured doctor.

Edward Szachowicz, MD, PhD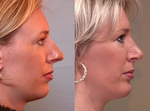 Wondering about your options?
Call Dr. Szachowicz (952) 466-6385

Christopher Tolan, MD
Expert Rhino & Septoplasty Techniques
Call Dr. Tolan (612) 999-2120

James A. Hoffman, MD
Achieve your best aesthetic outcome
Get a Free Conlust (651) 237-4746
Join RealSelf
Join the world's largest cosmetic surgery community.