Boynton Beach Breast Lift Doctors and Reviews
Average cost in US: $7,975
Average cost in Boynton Beach: $7,600

92% of Boynton Beach reviewers said Breast Lift was worth it
Featured Doctors

RealSelf Sponsors must meet eligibility requirements to qualify as a featured doctor.
Steven Schuster, MD
Wondering about your options?
Call Dr. Schuster (561) 316-2824
Louis DeLuca, MD

Ask Dr. DeLuca about your options
Call or Click (561) 767-8065
Hilton Becker, MD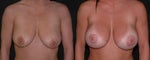 Achieve fuller, natural-looking results
Call Dr. Becker 561) 600-5613
Join RealSelf
Join the world's largest cosmetic surgery community.