Thousand Oaks Breast Implants Doctors and Reviews
Average cost in US: $5,975
Average cost in Thousand Oaks: $7,050

100% of Thousand Oaks reviewers said Breast Implants was worth it
Featured Doctors

RealSelf Sponsors must meet eligibility requirements to qualify as a featured doctor.

Grant Stevens, MD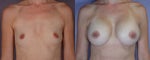 Ask Dr. Stevens about your options
Get Free Consultation (424) 444-0503

Andrew Smith, MD, FACS

Create larger, firmer and fuller breasts
Free Consultation! Call (949) 613-5332

Daniel J. Casper, MD

5000+ Procedures Performed, LA/OC
Click or call to consult Dr. Casper
Join RealSelf
Join the world's largest cosmetic surgery community.