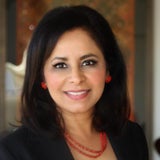 Usha Rajagopal, MD
Specials and Deals
20% off First Injectable Filler Treatment
$500 Off Breast Augmentation
$1,000 off Mommy Makeover if you mention RealSelf
13 reviews
149 Expert Answers
490 Post Street, Suite 430
San Francisco
,
CA
94102
About Usha Rajagopal, MD
Usha Rajagopal, MD practices in San Francisco at San Francisco Plastic Surgery & Laser Center as a Plastic Surgeon, board certified by American Board of Plastic Surgery. Dr. Rajagopal was invited to join RealSelf in 2008, and has achieved "Distinguished Member" status. The doctor has 18 years of experience providing cosmetic and aesthetic medical services, and is a member of American Society for Aesthetic Plastic Surgery (ASAPS) and American Society of Plastic Surgeons (ASPS). Dr. Rajagopal has hospital affiliations at California Pacific Medical Center.
Consultation Fee
Free if you mention RealSelf.com
Featured Patient Reviews
Posted by ChaCha7
Breast Lift
Dr R & all her staff are very friendly, caring & they provide professional top notch excellent service. As soon as you walk in,you feel right at ease with Dr. R. I initially had my breast implants done about 14 years ago with Dr. R, but gravity has taken over & they were sagging. I booked a consult and to my surprise she remembered me & even gave me a discount for being a repeat patient! I then booked my appointment she did my breasts lift & augmentation 12/27/10. All went amazingly well I am 3 weeks post op and LOVE my new perky breast!
Posted by ButterCupSF3
Labiaplasty
Dr. Rajagopol is great and her pricing is very reasonable and transparent. For me, a female surgeon was a must, and Dr. Rajagopol made me feel very comfortable. Also, she was able to fit me in for the surgery right away. Everyone is different, but if you are considering a labiaplasty, I would recommoned that you see her for at least a consult (might be a good idea to consult with more than one doctor so you feel very comfortable with your final choice). Good luck!
Posted by GreysAnatomyFanatic
Breast Implants
Dr. is so caring. I felt like she genuinely cared about me from the very beginning of the consultation process to my last post-op appointment. The office and medical staff at her practice are all so helpful and friendly.
Posted by NorthCoastGal
Breast Reduction
I've had a very good experience with Dr. Rajagopal. At 2 weeks, I love the results. She was available by cell phone and answered my questions post-op. I would have preferred to have been billed for whatever my insurance didn't cover, but as it was I had to pay the full cost up front, trusting that I will be reimbursed by the practice when the insurance payment arrives. I was flummoxed by the request that I bring my own sports bra to the surgical appointment -- had no idea what size to buy, of course, and the one I brought was too big and had to be packed with gauze. I think an office-supplied surgical bra would be nicer.
Posted by lovemyeyesnow
Eyelid Surgery
Professional, honest, gifted, friendly, gifted.
Posted by Jaymeplus2
Photofacial
great, even though the procedure didnt work for me..the staff was very nice.
Posted by SFSFSF
Eyelid Surgery
I chose Dr. Rajagopal for her experience, the convenient location of her clinic and the reasonable pricing. I especially appreciated her philosophy to achieve completely natural looking results.
Posted by Valerie64818
I had nothing but the best experience at Dr.R office.. I was nervous and a bit shy about getting a breast augmentation, but dr. R was sooo nice and friendly i enjoyed coming to her office.i had an A cup and i told dr r I wanted to have a natural look. I'm now a full C and I LOVE My new boobs:) Thanks
Posted by Barcelona2
Lip Lift
Straightforwardly, Dr Rajagopal is all you can expect from a top notch professional. She listens and most important, interprets what you really want. Also if she thinks that the procedure will not be positive for you, she will tell you. And the part that I like most, she possesses (from my wife) an exquisite sense of beauty. If I have to to summarize it: superb experience, superb results. If you live in the bay area, an (extra) visit to Dr Rajagopal could be your very best decision. Period. And for the budget-conscious (almost all of us these days), real estimated prices are posted on the website (another aspect that adds up to our absolute satisfaction). Thank you very much Dr Rajagopal.
Posted by robertsml1
Breast Augmentation
I found Dr. Rajagopal through a google search. I liked her website and decided to get a consultation. It was fast and easy.
Posted by jaysunation
I choose Dr. Rajagopal based on all the positive reviews. After reading all the positive reviews of Dr. Rajagopal, I felt confident that she would be an excellent choice for my Otoplasty procedure. She is incredibly warm and friendly and took the time to answer all my questions. The procedure went smoothly and she personally made the calls to check up on me. I wish I had a doctor who was this professional, attentive, and caring when I had my vasectomy!
View all reviews
Treatments offered at San Francisco Plastic Surgery & Laser Center
Education / Training
Medical: Southwestern Medical School, Dallas, TX


Residency: Parkland Hospital at Dallas

Fellowship: Plastic Surgery, University of California at San Francisco, 1995