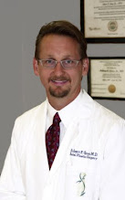 Robert F. Gray, MD
12 reviews
68 Expert Answers
531 Main St.
Pleasanton
,
CA
94566
About Robert F. Gray, MD
Robert F. Gray, MD practices in Pleasanton at Robert F. Gray, MD, FACS as a Facial Plastic Surgeon, board certified by American Board of Facial Plastic and Reconstructive Surgery and American Board of Otolaryngology. Dr. Gray was invited to join RealSelf in 2007, and has achieved "Distinguished Member" status. The doctor has 21 years of experience providing cosmetic and aesthetic medical services, and is a member of American Academy of Facial Plastic and Reconstructive Surgery (AAFPRS) and Fellow, American College of Surgeons (FACS).
Consultation Fee
Call for more information
Featured Patient Reviews
Posted by Miss Tennyson
Breast Implants
Everything was great with Dr, Gray. He is a sweet guy, but I am disappointed that he would not go bigger than a siz D cup! I went in with the intention to have DD's.
Posted by harleydma
He is inexperienced and is no longer with Lifestyle Lift. Most of his work is being done as a Revision by another surgeon(Dr. Suss)
Posted by JohnRich
Lifestyle Lift
The only negative comment I have is that the young woman who removed my stitches was not very thorough, as she missed about 6 pieces.
Posted by 1031 Carol
Lifestyle Lift
He does not give you any misleading expectations. My expectations, however, were exceeded.
Posted by Self Confidence
Lifestyle Lift
His bed side manner (so to say ) was very caring. He answered all the questions I asked. I was able to come in anytime if I felt uncomfortable or thought I needed any further snips here or there which I did.
Posted by 1405anon
Lifestyle Lift
Dr. G is no longer with Lifestyle Lifts. I just found out today (12/20)that when I saw him on 12/2 to have chin stitches removed (redo) that it was his last day and he went back to the MD Spa in Pleasanton. No, he didn't bother to tell me...
Posted by so happy
Dr G is the Best........................
Posted by Fremont7612
He did a wonderful job and I am very happy with the service from Lifestyle Lift and with Dr. G (straight and honest opinion). I am sure will recommend Dr. G to friends and family. Thank you very much.
Posted by Susull
Lifestyle Lift
I had a great experience and look and feel so much better. I would recommend this procedure to everyone!
Posted by Sharks07
Lifestyle Lift
Lack of information I received from him and the scar he left under my chin. He was however always courteous and respectfully friendly.
Posted by 1925virginia
Cheek Augmentation
My last surgeon is a wonderful compassionate, caring human being. He tried to put me back together but he admits that he does not have the skills to do it. i need more help. Craniofacial help he thinks. I love and trust this doctor...but I am not your straightforward cosmetic surgery patient.

Updated on 31 Aug 2011:
Dr Gray completely destroyed my face with a lipoma removal in my neck and cheek implants. he chopped up the muscles in my neck and also completely destriyed the muscles around my eyes, cheeks, temples, mouth and jaw. Dr gray absolutely butcheed me. I m still in shock that something like this can happen to a patient of a board certifird surgeon.
Posted by jellybeano
Lifestyle Lift
As to Dr. G he was unsympathetic, rushed, and I felt like 'a piece of meat' he was working on. He was totally defensive when I tried to explain the awfulness of the procedure and how 'uncared for' that I felt by him as a patient~ he acted like he just didn't want to hear about it.
View all reviews
Treatments offered at Robert F. Gray, MD, FACS
Education / Training
Medical School:
Saint Louis University, 1992

Fellowship:
University of California San Francisco
Facial Plastic and Reconstructive Surgery

Residency:
Emory University School Of Medicine
Head and Neck Surgery