Pasadena Smart Lipo Doctors and Reviews
Average cost in US: $4,975
Average cost in Pasadena: $4,625

100% of Pasadena reviewers said Smart Lipo was worth it
Featured Doctors

RealSelf Sponsors must meet eligibility requirements to qualify as a featured doctor.

David Amron, MD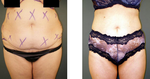 Wondering about your options?
Get a Free Consult (310) 776-6143

Michelle Spring, MD

Contour your trouble areas
Call Dr. Spring (310) 740-9177
Afshin Farzadmehr, MD
Remove Fat or Transfer to Buttocks
Get a Free Consult (424) 290-8480
Join RealSelf
Join the world's largest cosmetic surgery community.