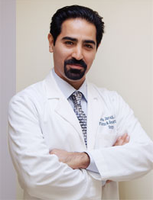 Payam Jarrah-Nejad, MD
11 reviews
1 Expert Answer
421 N. Rodeo Drive, Penthouse Level
Beverly Hills
,
CA
90210
About Payam Jarrah-Nejad, MD
Payam Jarrah-Nejad, MD practices in Beverly Hills at Payam Jarrah-Nejad, M.D., F.A.C.S. as a Plastic Surgeon, board certified by American Board of Surgery - General and American Board of Plastic Surgery. Dr. Jarrah-Nejad was invited to join RealSelf in 2012, and has achieved "Participating Member" status. The doctor has 5 years of experience providing cosmetic and aesthetic medical services, and is a member of American Society of Plastic Surgeons (ASPS) and Fellow, American College of Surgeons (FACS).
Consultation Fee
Free. Complementary when you mention Real Self
Featured Patient Reviews
Posted by Country Girl at Heart
Breast Augmentation
Did a lot of research and he seemed to be really good and had lots of awesome reviews! He is always patient with me and really concerned with making sure that I don't leave with unanswered questions:)
Posted by dazelubzdan
Dr. Jay is amazing he is the best he changed my life!!! Staff were very nice and helpful..
Posted by thenewmeafter3
Mommy Makeover
Dr J is seriously the most amazing surgeon and man. He is so personable and has a great bedside manner. Knows just what to say to make you get a smile on your face. He always answers my question and even answers some before I even ask. His follow up care after the surgery is also excellent. Especially when you are quite out of it. I never felt rushed for my appointment or did I have to wait to be seen with the exception of my consult (but that was my fault for missing my appt time by an hr and a half). The staff are excellent especially the nurse Maggie. She is so nice and will answer your questions. Diana is also very personable she is reachable through email or text. Call to get a straight answer or else you might wait a few days for the email or hours for the text. The payment process is a breeze either charge or check. Overall I rate the DR as excellent and the Staff as very good. I would definitely recommend him to my friends and family.
Posted by thetrueme
Mommy Makeover
A real self member choose this PS and I like her results!
Posted by Small boobies
Breast Augmentation
I found him through the Beverly Hills Physicians website
Posted by Ma0114
He is a great surgeon from the beginning to the end! I recommend him 100%!!!!! :D
Posted by joypop82
Breast Augmentation
Through Dr. Reviews. He has been amazing with each visit. I chose him after reviewing hundreds of Dr. Reviews. And after our consults I knew he was the One. It's very important to feel comfortable with your Dr. And I am so excited to finally move forward.
Posted by SHIRA2204
Breast Implant Revision
When I was finally ready for my revision breast augmentation, I researched and went to see a few different doctors. Dr. J came highly recommended by a friend and I went to his office for a consultation. Upon meeting him, I immediately felt very comfortable with Dr. J as he explained in great detail to me everything about my surgery and what needed to be done to correct my previous breast aug. Turned out I had developed a capsule and a lot of scar tissue. I am so happy that I was referred to this wonderful doctor because he fixed everything that was wrong with previous surgery and so much more! His patient coordinator Daria was so accommodating to all my requests and questions. She helped me every step of the way from scheduling the surgery to calling in all my medication and always being available before and after my procedure. I am so glad I decided to go with a larger implant since Dr. J created amazing cleavage which I never had before! My recovery was very quick and smooth. I refer all my friends to Dr. J because I completely trust that he will make them as happy as I am! Thank you Dr. J and Staff for taking such good care of me!!
Posted by JennaT
Brazilian Butt Lift
self research online
Posted by julyana
Tummy Tuck
Im giving Dr. J because my incision looks nice and thin, im heeling nicely and so far i love what i see :) thank you. Dr. J was my first plastic surgeon i went to , The first person I met was maggie, she was very sweet and easy to talk to .Dr . J came in and said i was a great candidate, showed me pictures of his work and answered All my questions. I did not feel rushed and left feeling like i can call back with more question if i needed to l. Diana was also very helpful with my financing. I then visited other doctors like Dr. Chugay in long beach, staff nice but i could not find any good reviews, and felt rushed in consultation.
View all reviews
Treatments offered at Payam Jarrah-Nejad, M.D., F.A.C.S.